It has been a fun summer in my garden and I have been using the produce plus great prices in the stores right now for many fruits to make preserves to enjoy throughout the rest of the year.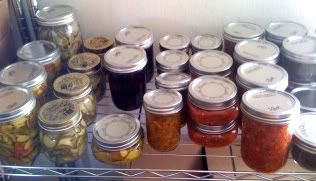 Most pickle and preserve recipes contain a LOT of salt and sugar and I don't eat refined sugar and keep to a very low sodium diet. But I've found that you can substitute pureed dates or date syrup for some sweetness and eliminate or significantly reduce the sodium with some thought.
Two very successful recipes I've made this year are for salsa and mango chutney.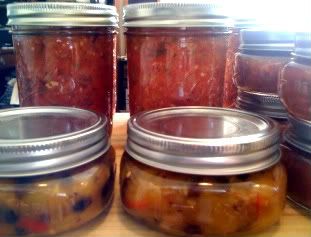 Here's the recipe for the salsa. It was originally posted by Bryanna Clark Grogan on a VegSource message board. My notes are in brackets.

Fresh Salsa
8 garlic cloves
1 large onion
1 large green pepper, seeded
1/4 cup drained pickled jalapeño peppers OR 2 or 3 fresh seeded hot green chilies OR use 1 Tbsp pureed canned chile chipotles[I used fresh jalapenos from my garden]
2 (28 oz) cans diced tomatoes, very well drained [I used equivalent amount of fresh tomatoes from my garden, peeled and seeded]
OPTIONAL: 1/4 cup tomato paste [I used this]
2 Tbsp lemon juice or red wine vinegar [I used fresh lime juice]
1 - 2 tsp salt [I left this out]
1 tsp dried oregano (or 1 Tbsp fresh) [I left this out]
OPTIONAL: 1/4 cup chopped fresh cilantro or Italian parsley [I used about 1/2 cup fresh chopped cilantro]
1 tsp dried red chile flakes (if you like it really hot--but remember that this salsa gets hotter as time goes on) [I left this out]

If you have a food processor, pulse the garlic cloves, then add the onion and green pepper, cut in chunks, and the jalapeños and pulse until minced. Add the drained tomatoes and the remaining ingredients and pulse until well mixed.

If you don't have a food processor, then you'll have to chop everything fine by hand.
Keep in tightly closed jars in the refrigerator. It will keep refrigerated for several weeks. Some clear liquid will rise to the top. Pour it off or stir it in, depending on the consistency you like. [Because I was making this in bulk, I then proceeded to heat the mixture to boiling, then ladle into sterilized jars, sealed them, then processed in a boiling water bath for 30 min.]

I used this recipe from Saveur magazine for the Mango Chutney with a few alterations:

I did not use the oil. I water sauteed the garlic, onions, etc.
Instead of the habanero or scotch bonnet peppers, I used fresh chopped jalapenos.
I left out the brown sugar. Mango is sweet in its own right!
Because I left out the sugar, I only used half the amount of vinegar and lime juice.
I'll post some of the other pickles and preserves I've been making in a separate entry.